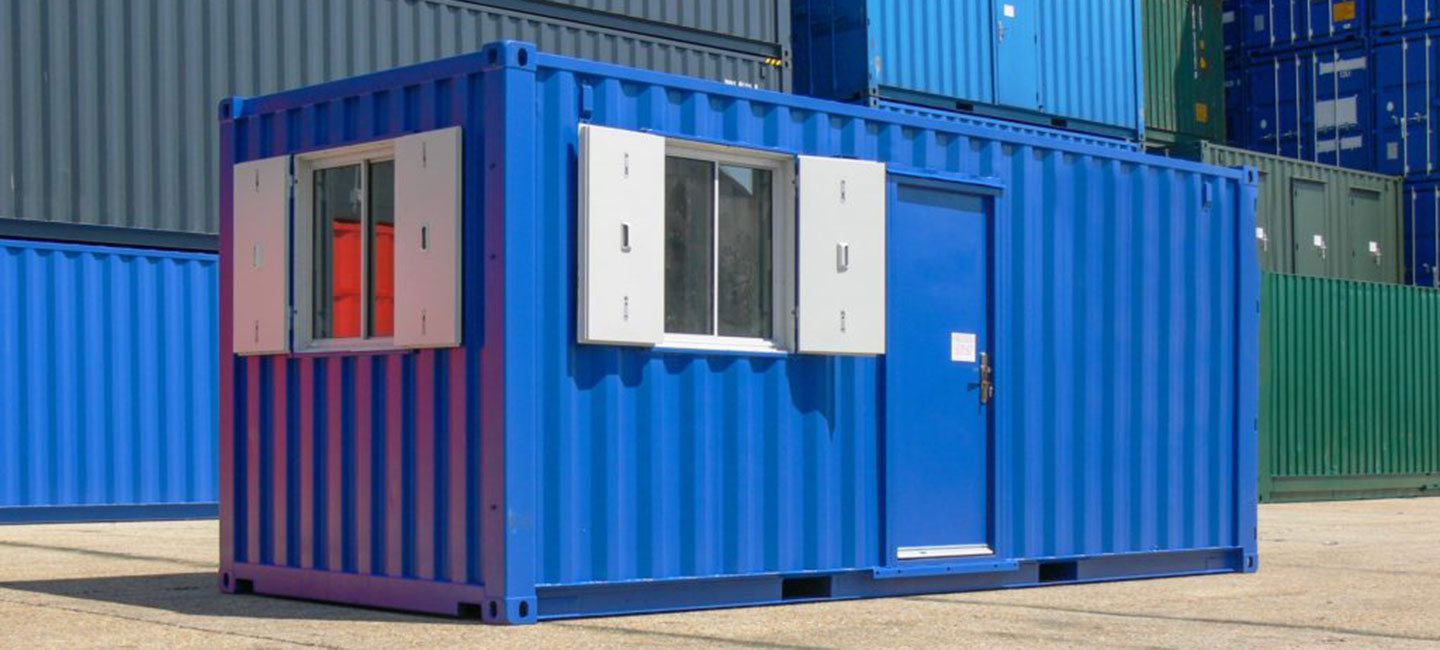 20ft Split Container
Office/Welfare
The perfect solution for construction sites or to extend your existing office space.
Shipping Container 20ft Office
Canvey Island
This standard converted shipping container in Canvey Island features a main office space with a kitchen area and a separate toilet. The container is accessed through a steel vandal resistant single personal door and two double glazed shutter windows provide natural illumination and ventilation.
A wooden partition with a personnel door separates the toilet area, which features a low-level WC, a washing wand basin and a water heater. The kitchenette with an 8ft worktop, sink, taps and an under-sink cupboard is placed against the wooden wall.
 The container walls are insulated and lined throughout using 3mm vinyl faced ply "Wilkins White" on 25mm PIR walls and 50mm PIR ceiling. The floor is covered by non-slip vinyl.
This conversion also features a UK certified electrical installation fitted throughout with an external 220-240V single phase inlet and an internal distribution board, two ceiling battens for illumination, two switched sockets and a wall-mounted convector heater.
20ft Office with Kitchen & Toilet
Shipping Container
CAD Drawing of 20Ft Office Toliet & Kitchen Conversion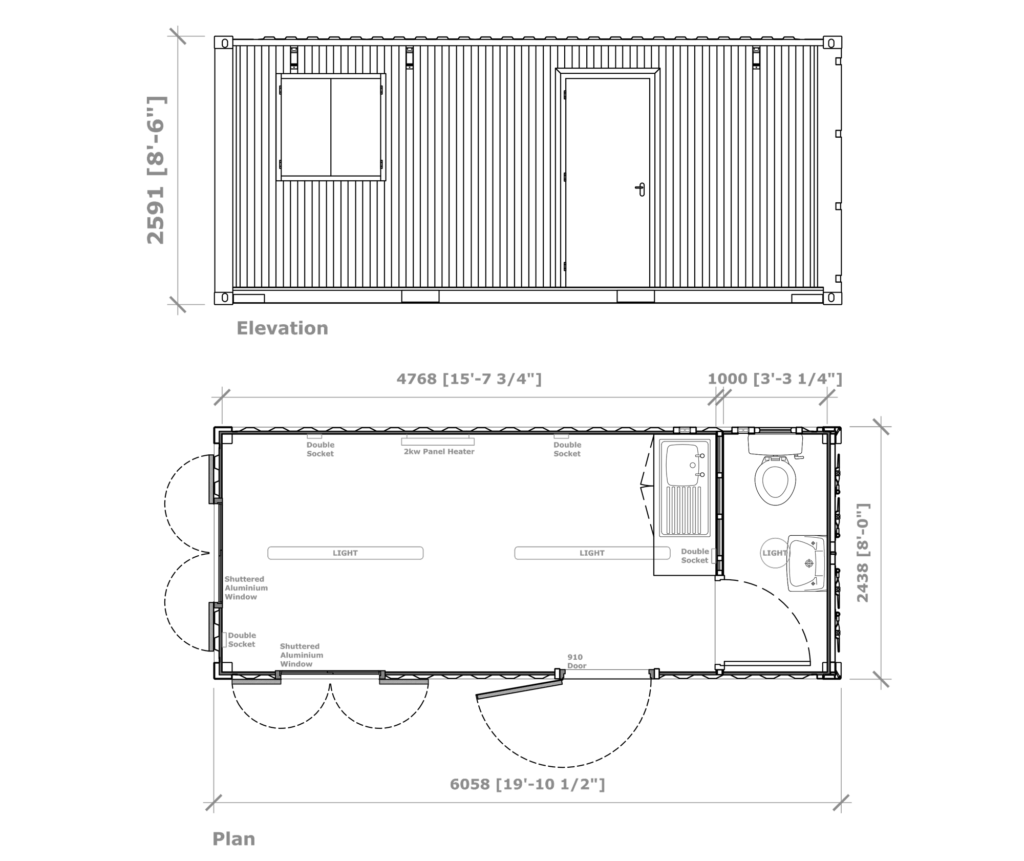 *Please note: All drawings are for representation purposes, Big Green Container Sales reserves the right to modify these designs at any time. Do not dimension from this drawing, use figured dimensions only. All measurements in millimetres. Reproduction is not permitted without authorisation.
Portable Office

with these features
Container Office Conversion in
Kent, Lancashire, Derbyshire, Surrey, Cambridgeshire, North Yorkshire, Somerset, Essex, Tyne and Wear, Essex, Gwynedd, Lancashire, Cumbria, Cumbria, Tyne and Wear, Cheshire, Cumbria, Derbyshire, Essex, Dorset, West Yorkshire, Powys, West Yorkshire, Gloucestershire, Essex, Derbyshire, Northumberland, Ceredigion, Tyne and Wear, Derbyshire, North Yorkshire, Derbyshire, Tyne and Wear, Essex, Lincolnshire, Essex, Tyne and Wear, East Sussex, West Midlands, Somerset, Nottinghamshire, West Yorkshire, Wiltshire, Cambridgeshire, Powys, West Yorkshire, Denbighshire, Kent, Powys, West Midlands,